ALPINE BOTANICALS
are the Center of every unique Formulation we create or
you select for your personalized Skincare Product
AlpStories was born from our commitment to excellent quality and is dedicated to creating the purest products to nourish and hydrate skin. We use hand harvested, organic botanicals from the Swiss and French Alps, grown in nutrient dense, fertile soil, yielding premium quality ingredients that provide more bioavailable benefits to our skin than those grown using more commercial methods.
The natural, comforting active ingredient complex is designed to address dry skin, inflammation, redness, and environmental stress. All AlpStories beauty products are formulated to European organic standards with certified ingredients guaranteeing maximum benefits and safety for skin.
Every Story begins with the Ingredients
Every essential oil found in AlpStories Skincare products is of certified organic origin and every plant extract is natural in origin. Products that are silicone-free, without synthetic fragrances, artificial colors, or mineral oils are of the utmost importance to us. Our supreme essential oils come from the first fraction (meaning the best part of the plant extracting process and the highest quality substances). We ensure that the ingredients in our blends have the purity and impeccable freshness.
All AlpStories products are organic, cruelty free, vegan, sustainable and are created
without parabens, sulfates, artificial colors, synthetic fragrances, mineral oils and silicones.


The Power of Alpine Plants
Growing high in the mountains, rich in phyto-nutrients, anti-oxidants and UV protectants, their ability to cope with extreme fluctuations in climate makes these small Alpine plants remarkable.
When used in skincare formulations, their defensive and adaptive strategies protect against dehydration, UV induced damage, free radicals & premature aging. They support collagen and hyaluronic acid production key components in firm youthful skin.

Commitment to Clean Beauty
AlpStories is a true clean beauty brand, meaning that unlike a lot of beauty products on the market, our products contain ZERO harsh chemicals and are truly organic and pure. We, at AlpStories knew that we had to set a new standard for what is considered healthy for beauty products.
Until now, the U.S. has banned 30 ingredients from personal care products, while the E.U. has banned over 1,400 harmful chemicals and ingredients. Luckily AlpStories is way ahead of the game - we only use natural and healthful organic alternatives to the harmful (and often toxic) ingredients that should be banned. We made the decision to cut out toxic chemicals like the EU did and even go above and beyond. To demonstrate our commitment to safety and skin health, AlpStories only works with certified organic ingredients partners from the Swiss and French Alps.
At AlpStories, we are passionate about every single ingredient and every single one of one of our blends - whether it be a custom blend (Made by You) or a pre-made one. We believe that everything necessary to look beautiful is contained in nature, which is why we pride ourselves on manufacturing sustainably created skin care products that leave a low carbon footprint and do no testing on animals. Our innovative robotic manufacturing system is also a pledge to our philosophy. Consciously contributing to our fauna and planet's conservation.

Read more here about our organic ingredients
To dream of a perfect Skin Care Product is to make one yourself
We believe that every skin is unique and deserves its own formula because people differ in their views and needs in taking care of their bodies and relationship with own skin health. And because we are all different, we also need a formula that meets the needs of our individual skin.
Besides using only the best organic ingredients, AlpStories provides you with our BeautyWizard, your online tool to mix the custom-made skincare products of your choice. It acts as a smart factory on your phone or through our AlpStories website. Choose from our lavish selection of the most exquisite, supreme oils and pure organic ingredients.
Your personalized beauty products are immediately produced by our dual-arm robot, named Balthazar, which helps you to precisely mix the organic ingredients of your choice and even prints your personalized label.

There are millions of different variations depending on ingredients, fragrances, concentration, skin need... all individualized to your skin.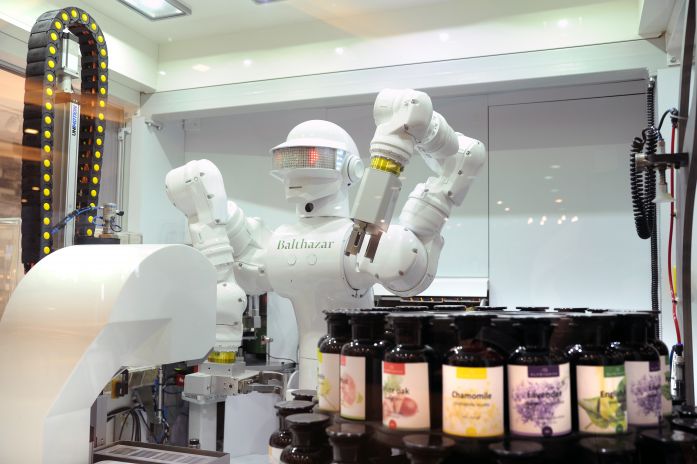 Personalized Facial Cream. You also have the ability to personalize your Facial Cream formula according to your preferences and skin needs. It is very easy, just take the Skin Quiz and provide data about your skin, the environment in which you live, your lifestyle and receive a custom formula - Made for You only.
Your personalized facial cream and skincare products will not only nourish, protect and revive your skin, they will also complement your unique image, your lifestyle and choices, nurturing you endlessly with all the natural benefits that active botanicals from the European Alps offer so generously.
Quality without Compromise
Experience the true beauty promise. Our bespoke AlpStories brand offers you the ability of creating something truly unique, personal and addresses your skin concerns and issues. AlpStories brings you the finest organic supreme blends that evoke quality without compromise. We do not store our products. They are made on demand, bringing you the freshest product possible. Premium formulations of impeccable freshness and purity as a hallmark of excellence.
AlpStories - Where Nature meets Future